Reviews for China Post EMS (Express Mail Service)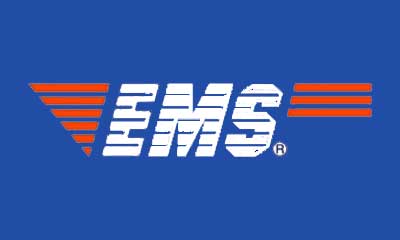 Sklkim Tairi from Germany
|
2/14/2022 7:55:52 PM
AS*********CN
delivered in
9
Days
Hello, My package has not yet been delivered this is a false message. (Copyfrom website Aftership) ("Delivered feb. 11, 2022 17:14") I have not received anything until now. Whith great regards, Sklkim Tairi
P from China
|
12/24/2021 5:05:28 AM
EA*********CN
delivered in
23
Days
I've used EMS china for the past two years to send packages to the UK. Their service is excellent, and my packages reach destination on time. Excellent customer service and experience...Happy customer:-)
baha from United States
|
9/23/2021 6:55:05 PM
CY*********CN
not delivered in
12
Days
Query on tracking No CY001696715CN delivery. Item was purchase thought webobuy Store Shop 12th Jul 2021. Store said it was in warehouse and shipped to origin post. then stuck for over two months. And Help or upgrade will be appreciated ! Thank you !
scott chandler from Australia
|
7/20/2021 3:48:25 AM
Ev*********cn
not delivered in
18
Days
Express shipping what a joke I paid extra postsge cost for ems and still in china waiting waiting should have saved my money and went normal postage. They take your money and dont deliver. Don't waste your money.
ravoman from New Zealand
|
4/1/2021 5:02:17 AM
LT*********NL
not delivered in
15
Days
I purchased a product from China and incurred an associated high shipping cost as it was shipped through EMS. Therefore I expected a relatively quick shipping time. After 15 days tracking shows as no information available and 'international departure'. Would never purchase an item again that uses EMS - terrible service at such high cost. They should be held to account.
Sam from United States
|
3/29/2021 1:53:45 AM
EV*********CN
not delivered in
10
Days
Although Daisy told me packages sent by EMS are delayed. Mine is not slow. It takes 8 days to reach the United States after shipping. I think I could receive it in another 3 days.
mbe1200 from United States
|
11/12/2020 9:42:03 PM
EMS : EA*********CN
not delivered in
7
Days
I wish I could give them ZERO stars! This is absolutely the FIRST and LAST time I am using EMS. They had my package since 10/28 with no movement or updates! It just updated today with NO expected date for me to receive my package! I know that there is a pandemic however it does not take this long here in the U.S. and we are in worse shape than china is with the coronavirus. TOTALLY UNACCEPTABLE!
Nico from United States
|
7/17/2020 3:25:25 AM
EB*********CN
not delivered in
25
Days
At the moment all my packages that were sent by EMS have been delivered, but some have been delayed a lot. I imagine that due to the pandemic. We have to be patient.
Pat from United States
|
6/28/2020 1:14:26 AM
EA*********CN
not delivered in
74
Days
Have my parcel arrive in Melbourne in 73 days for express post! Even there's an issue due to this pandemic but it still not acceptable. I do have parcel send by others courier company that able to deliver in 10 days! If i given 1 start and my review won't be post China Post!
Jane from United Kingdom
|
5/20/2020 3:58:20 AM
EB*********CN
delivered in
30
Days
I ordered stuff from China several times now, even during Corona. Almost everything came very fast. Most of them could be delivered in a month. Thank you.
CHL from United States
|
3/24/2020 5:58:05 AM
EB*********CN
delivered in
25
Days
Just wanted to share my experience with you guys. The package was sent by EMS on 2/26/2020 from China to US and it was finally delivered on 3/23/2020. I was very anxious with a long delay. I hope your packages arrive soon!
Slavomir from Slovakia (Slovak Republic)
|
2/26/2020 4:57:14 PM
EE*********PT
not delivered in
100
Days
EMS are using the "PROHIBITED ITEMS" card often now. They will open packages even those that are sent within the European Union or even within the same country. They use "prohibited items" card to keep your contents. Their "prohibited "items" list is now listing everything including "Other Manufactured Goods" which can be applied to anything, even cellphones and appliances, to paper goods and even cash! Their confidence trick scheme is like this: they email you that they found "prohibited items" in your envelope or parcel and they tell you you must fly to a remote warehouse to pick the shipment up or they will discard the contents. This is a worldwide Swiss scam - EMS headquarters are in Switzerland.
Vera from United States
|
11/13/2019 3:24:23 AM
EML*********CN
not delivered in
20
Days
I paid for express service 7-10 days. But it doesn't come in 10 days now. Disappointed.
Frank from Australia
|
10/24/2019 2:26:36 AM
EB*********CN
delivered in
20
Days
EMS couldn't be delivered in 15 days. It takes 20 days to Japan. Acceptable but really not so fast. Hope you could improve.
Kendy Chen from Singapore
|
11/3/2018 2:28:33 AM
**********
delivered in
9
Days
Very fast delivery, I got my package in 9 days, good service
David from Australia
|
10/25/2018 11:08:42 AM
**********
delivered in
14
Days
EMS is fast. I can get it within two weeks everytime. Although it's expensive, it worth the price. The tracking service is good. Daisy answered my questions quickly and in details. Thank you.
George from United States
|
10/21/2018 2:55:01 PM
LT*********CN
delivered in
12
Days
I used USPS in US and was transferred by China EMS and delivered within 12 days. I think the shipping time would be fast enough.
Your first-hand experiences really help others, Thanks