China Post EMS (Express Mail Service)
EMS (Short for International Express Mail Service) is a subsidiary of China Post. Mainly operating China domestic and international EMS services, it is the largest provider in China's express service industry. It has established a continuously growing network, linking the world, covering the whole nation of China including rural areas. The service covers more than 200 countries and regions and up to 2000 China domestic cities at present.
Here we mainly introduce the International EMS of China to you. The China International Express Mail Service is a shipment delivery service offered by China Postal Express & Logistics and other postal operators in the world. It delivers documents and materials, urgent letters, financial bills, samples and all kinds of goods from and to other countries, Taiwan, Hong Kong as well as Macao with fast speed and high reliability. At the same time, the tracking service is offered in varies of ways.
Frequently Asked Questions for EMS Tracking
Format of EMS Tracking Number:
The tracking number (Shipment ID) of China Post EMS is usually composed of 13 characters. It begins with "E" (represents Express Mail) and another letter and ends with "CN" or "CS". Between them are 9 digits. There are also other formats like:
( L# *** *** *** CN ) ( CT *** *** *** CN )
( CY *** *** *** CN ) ( F# *** *** *** CN )
( B# *** *** *** CN ) ( A# *** *** *** CN )
Shipping Time:
In general, an EMS parcel can be reached its destination within 3-7 working days. For some remote areas, it may need another two days.
1. To Southeast Asia and South Asia Areas: within 3 days
2. To Australia: within 4 days
3. To European and American countries: within 5 days
Features:
1. It is faster than China Post Mail. The parcel can usually be reached its destination within 3-7 days.
2. It has a higher priority to be processed when passing the customs.
3. Although it's more expensive than China Post Packet, it has no fees for customs clearance fee, fuel surcharges and additional fees for remote areas.
4. The international EMS offers the insured service to make sure your delivery is guaranteed.
5. If there is any problem for your packet in other countries and needs to be returned. No fees will be charged for the return.
5. It provides the shipment tracking service to follow your parcel at any time.
Standard Rate for International EMS:
Rate differs with weight, destinations and package categories. E.g. from China mainland to Hong Kong, Macau or Taiwan, RMB 90 will be charged for the document and RMB 130 for merchandise within 500 gm. RMB 30 will be charged for every additional 500 gm. To USA, it will be more expensive which is RMB 180 for the document and RMB 240 for merchandise within 500 gm. RMB 75 will be charged for every additional 500 gm. For a single merchandise item, if the weight is less than 500gm, it can be charged as a document. To get the rate for more countries and regions, please click
Standard Rate for International EMS
.
If you post documents or merchandises from China Guangdong or Fujian Province to Hong Kong and Macao or from Xinjiang to Kazakhstan, please get the rate here:
Rate for International EMS Shipments Posted in Border (Port) Areas
Weight Limit:
The maximum weight of an International EMS package differs in different destinations. In all, there are five types of maximum limits which are 20 kg, 25 kg, 30 kg, 31 kg, 31.5 kg and 40 kg. Following are maximum weights for some destinations:
USA, Macau, UAE: 31.5 kg
UK, Australia, New Zealand, Germany, Canada, France, Italy, South Korea, Japan, Taiwan, Singapore, Thailand: 30 kg
Philippines: 20 kg
Hong Kong, Malaysia: 40 kg
Please click
Weight Limit of International EMS for more countries
Things you should get to know when fill out the EMS waybill:
1. The recipient's name and address should be written precisely in English and the telephone or fax number is suggested to offer in convenience of contacting for any problems.
2. The recipient's address should not only include the postal code but also the exact address.
3. On the express mail waybill, the detailed description of contents, quantity, weight, value, origin and dates and sender's signature should be filled out.
Articles Prohibited from Mailing:
1. Articles that prohibited to post or circulated by Chinese law and regulations
2. Dangerous articles that is explosive, inflammable, corrosive, radioactive and toxic.
3. The reactionary press, books or obscene goods
4. Various currencies
5. Articles harmful to public health
6. Goods that is liable to perish
7. Live animals (except bees, silkworms and leeches that are properly packed)
8. Articles improperly packed that may harm personal safety, pollute or damage other postal parcels
9. Other articles unsuitable for mailing
Compensation Rules:
1. For any delivery delay: 50% of the postage charge shall be returned.
2. For the loss or damage of document per piece, RMB 400 shall be paid as compensation.
3. For the loss or damage of merchandise without declared value, RMB 400 shall be paid as compensation per piece.
4. For merchandise with declared value, compensation shall be made according to the actual damage due to the loss or damage, but the maximum compensation shall not exceed RMB 500+60*W (W refers to the parcel weight presented in integer kilogram and the integer should be held with the oddment counted as 1kg.)
5. For the loss or damage or the parcel, besides the above compensation, the postage charge and special tracking fee shall be returned.
For more questions and enquiry, you can call 11183 if you are in China and call +86 10 11183 if you are outside China. Only Chinese language is available.
Other International Express offered by EMS:
--
China International Express
--China International E-commerce Express:
ePacket/EUB
International e-EMS
Reviews for
China Post EMS (Express Mail Service)
17
Reviews
All Reviews
17
3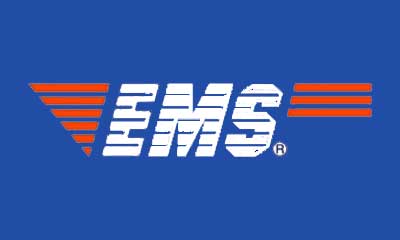 Sklkim Tairi
Feb 14, 2022
Hello, My package has not yet been delivered this is a false message. (Copyfrom website Aftership) ("Delivered feb. 11, 2022 17:14") I have not received anything until now. Whith great regards, Sklkim Tairi
Sklkim Tairi
P
Dec 24, 2021
I've used EMS china for the past two years to send packages to the UK. Their service is excellent, and my packages reach destination on time. Excellent customer service and experience...Happy customer:-)
P
baha
Sep 23, 2021
Query on tracking No CY001696715CN delivery. Item was purchase thought webobuy Store Shop 12th Jul 2021. Store said it was in warehouse and shipped to origin post. then stuck for over two months. And Help or upgrade will be appreciated ! Thank you !
baha
scott chandler
Jul 20, 2021
Express shipping what a joke I paid extra postsge cost for ems and still in china waiting waiting should have saved my money and went normal postage. They take your money and dont deliver. Don't waste your money.
scott chandler
ravoman
Apr 01, 2021
I purchased a product from China and incurred an associated high shipping cost as it was shipped through EMS. Therefore I expected a relatively quick shipping time. After 15 days tracking shows as no information available and 'international departure'. Would never purchase an item again that uses EMS - terrible service at such high cost. They should be held to account.
ravoman